This past week has been sunny and quite warm and reminds us that we are getting to another glorious PNW spring and summer. Now, before the weather really changes seasons, is a good time to go over your gear to avoid last minute surprises. Here are a few things to keep in mind that will hopefully get you thinking of the others that qualify for updating.
Is your "Ten" Essentials Kit depleted or is it filled with items that will work and which are appropriate for the season? (I put Ten in quotes, because your little bag should have at least the ten basics. Many of us carry more than just the basics).

Check you first aid kit.  All those oos and goos and medications have expiration dates. Any prescription medication should have an extra two-day supply   Believe it or not, band aids lose their adhesiveness, so check one and make sure it still sticks or hasn't gotten wet. Same goes for first aid tape…when cloth first aid tape ages, it sort of turns to dust as you peel it off the roll. Are your tweezers still in there?
Does your flashlight work? Do you have fresh, spare batteries (or a bulb, if appropriate)?  Now is a good time to replace batteries in your flashlight or headlamp, as well as replace your spares with new fresh ones.
If you carry chemical water purifying tabs, check the 'replace by' date and replace them if they have expired.
Sunscreen needs to be replaced every year. If you keep bug repellant, check that date.
Is that extra layer and/or hat still with your kit?  Do they smell funky and need a wash?
Is your Compass still in there?  Same thing that goes for your flashlight/headlamp goes for any GPS or in-reach devices – fresh batteries.  And if you keep maps at home, make sure they are sorted in such a way that the correct one is easy to find.
Check your lighter.  It should have plenty of fluid left in it. Make sure it works. Trust me… few things are as disappointing as a lighter that doesn't spark or let fluid through. If you have matches, same thing.  Strike up one of the matches and make sure it hasn't degraded.
If you keep energy bars or other emergency food in your kit, check the quality and expiration date.  I  usually just replace my emergency food on purpose at least once a year.
Is your knife still in there? (I am always "stealing" knives from places where they belong.)
Do you have an emergency shelter, a garbage bag, emergency blanket?
Consider other items you like to carry which may become more important the further from the trail head you travel:  duct tape, shoelaces, extra socks, repair kit, etc.  Don't forget about purchasing or finding the parking and park passes you may want for the season.

Set up your tent  Make sure the poles, stakes, fly, and stuff sack are all there and they are in good working order. Check your tent for rips or holes.
3.            Air out your sleeping bag.  Work the zipper.  Locate the stuff sack if it isn't stored next to your bag. (Do not store sleeping bags in stuff sacks to avoid compressing its loft.  This is not to be confused with the big cotton storage bags that may come with your bag).
4. Backpack Check all the seams to make sure they are strong and intact. Sew up any holes or weak seams. Look at all buckles and fasteners. Is there cracking, discoloration, lack of satisfying "snap" when closed. If so, you will want to replace them. Put your head into your pack and look for pin holes or other leaks you may want to fix. Also take in a sniff and make sure it isn't moldy.
5.            Boots  Are they clean with laces in good shape?  Are the soles crack-free and still nicely attached to the uppers?  Look for wear on the soles.  Are they wearing unevenly, or otherwise needing repair? If leather, do they need to be re- conditioned?  Pick at the seams on the uppers and make sure they are all tight.  Are your insoles still in there and if you use orthotics, are they in place?
6. Poles Do they adjust and can you lean on them? Are the baskets attached and in good order and do you have protectors for the pointy ends to keep from tearing up fragile trails?
7.            Stove  Fire it up and make sure it works.  How's your fuel supply?  If you use white gas, are your fuel bottles in good shape? Replace any old fuel with new fuel.  If you use butane, check the amount as best you can on any used canisters and dispose of those that are super low, or light. If your stove needs maintenance or just a good cleaning, now is the time (don't forget to fire it up after every time you work on it).   Find your pots, utensils, and cups and make sure those are all clean.
8. Water Filter Open it up and perform any annual maintenance to make sure it's in good working order. Run tap water through it to be sure. Taste the water and make sure the filter doesn't give off any "funny" tastes that may point to it needing some work.
9. Find or make packing lists This can help you to figure out what else needs to be checked out and make getting ready for future trips much easier. Don't forget to add your food to this list!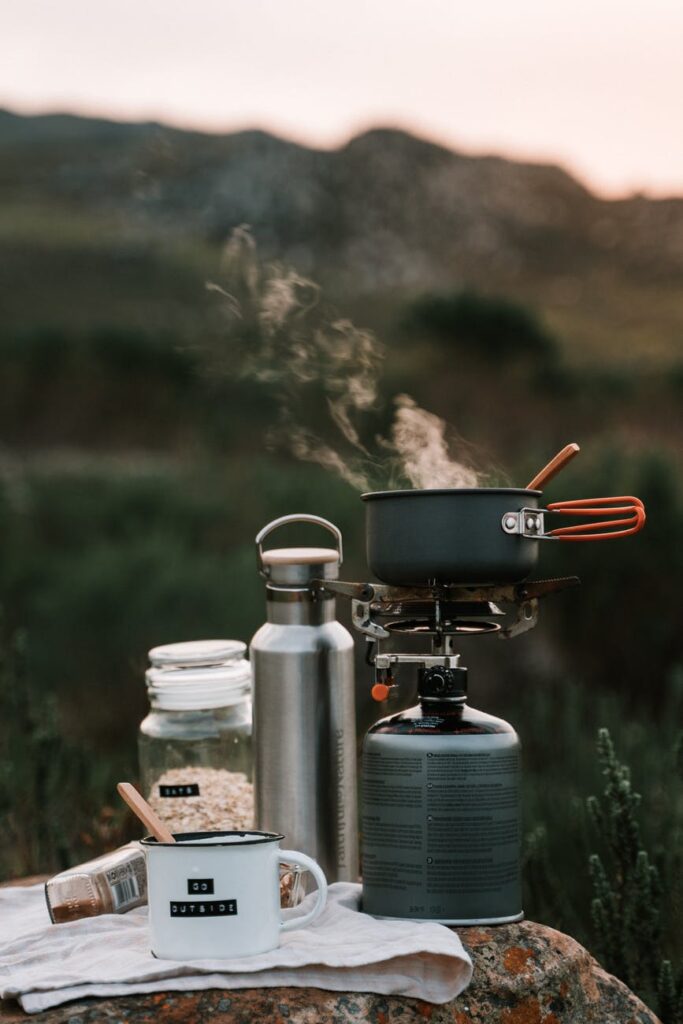 As I said before, this is just a start, and it is just for the basics. If you go camping for a few days, kayaking, canoeing, ski touring, snowshoeing (there is still plenty of snow up there, so be mindful), bike packing, or long backpacking trips, you will have more things to think about. So have fun, dream big, and prepare for your many fun adventures this year.